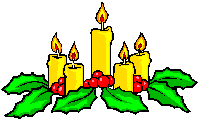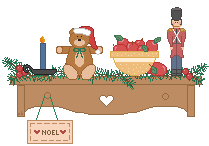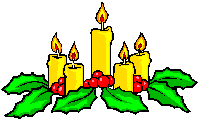 Here Are Some Yummy Christmas Recipes
To Try


Mary's Turkey In A Poke
16 lbs Turkey
1 tsp Salt
4 Sticks of Butter
1 Brown Paper Bag(Grocery Bag)
Preheat oven to 350
Soften the butter first, then fold the salt into the butter
Take half the butter and rub it all over the turkey, even the bottom
Then place the turkey in the sack, close the sack and tie with a non-flamable tie
Place in oven on middle rack
Melt the remainder of the butter and set aside
Let the turkey cook for aprox. 1 hour and 30 mins
Then turn it over gently leaving it in the sack
Pour the remainder of the butter over the sack coating it
place back in the over and let cook another hour and 30 mins
Be sure the sack stays moistened(can use the drippings as a baste)


My Mama's Stuffing
Ingredients:
9 cups soft white bread, cups
3 cups chopped celery
2 teaspoons baking powder
1/2 cup melted shortening
2 onions, chopped
3 teaspoons paprika
2 teaspoons salt
3 teaspoons ground poultry seasoning
2 eggs
Directions:
1
Sauté onions in melted shortening.
2
Mix together bread cubes, celery, baking powder, sautéed onions,
paprika, salt, poultry seasoning, and slightly beaten eggs. Mixture will be
dry.
3
Pack lightly into uncooked turkey. Roast turkey as directed.
Makes 12 servings


Jlee's Fruit Salad
4 apples
3 bananas
2 tangerines
2 cups of grapes
1 small bag of flaked cocanut
1 small bag of marshmellows
1 package of candy orange slices(cut up, use as desired)
1 cup of nuts (optional)
1 small container of coolwhip
1 Big Salad bowl
Peel apples and cut into qrt chunks
Peel banana's and slice
Peel tangerines and cut in half
Slice Grapes
Add All this and the cocaut, nuts and marshmellows in the bowl, cover for 1 hour
it will be juicey but dont drain
Then fold in the coolwhip and add cut up candy orange slices
Ready to serve
Makes aprox. 12 servings


Hasty Pudding
Ingredients:
1 cup brown sugar
1 teaspoon vanilla extract
2 tablespoons butter
1 cup boiling water
1/2 cup white sugar
3/4 cup all-purpose flour
1/2 cup milk
1 teaspoon baking soda
3/4 cup chopped nuts
1/2 cup raisins
Directions:
1
Preheat oven to 350 degrees F (175 degrees C). Grease a 9 inch square
baking dish.
2
In a medium bowl, mix together brown sugar, boiling water, vanilla, and
butter. Pour into prepared baking dish.
3
In a clean bowl, mix together white sugar, flour, milk, baking powder,
nuts, and raisins. Drop by spoonfuls on top of the mixture in the baking
dish.
4
Bake for 30 minutes. Serve warm.


Corn Pudding
Use a food processor or blender for quick and easy preparation.
Ingredients:
2 (10 ounce) packages petite corn
6 eggs
3 1/2 cups milk
1/2 cup butter, melted
4 tablespoons all-purpose flour
1 cup white sugar
Directions:
1
Preheat oven to 350 degrees F (175 degrees C).
2
In a blender or food processor blend the eggs very well. Add in the flour
and sugar and blend well. Add the milk and blend slightly. Finally mix in
the corn by hand. Stir in the melted butter and pour the mixture into a
large casserole dish.
3
Bake for about 45 minutes. When the pudding is done the center should
be solid and the top should have a nice golden brown color. Let rest for
approximately 15 minutes then serve warm.
Makes 6 - 8 servings


Southern Candied Sweet Potatoes
Ingredients:
6 large sweet potatoes
1/2 cup butter or margarine
2 cups white sugar
1 teaspoon ground cinnamon
1 teaspoon ground nutmeg
1 tablespoon vanilla extract
dash salt
Directions:
1
Peel the sweet potatoes and cut them into slices.
2
Melt the butter or margarine in a heavy skillet and add the sliced sweet
potatoes.
3
Mix the sugar, cinnamon, nutmeg and salt. Cover the sweet potatoe
with sugar mixture and stir. Cover skillet, reduce heat to low and cook
for about 1 hour or until potatoes are "candied". They should be tender
but a little hard around the edges. Also the sauce will turn dark. You will
need to stir occasionally during the cooking. Stir in the vanilla just before
serving. Serve hot.
Makes 12 servings

LilSis and Britt's
Pistachio Salad
1 box of instant pistachio pudding
1 tub of cool whip
1 small can of crushed pineapple drained
2 cups of marshmallows
1 cup of chopped walnuts
Mix dry pudding with the cool whip,add can of drained
pineapple,marshmallows
and walnuts,mixing well.
Chill in frig.

SNICKERDOODLES -SexyLady
My favorite X-mas cookie recipe
1cup of shortening (part margarine)
1 1/2 cups of sugar
2 eggs
2 3/4 cups of flour
2 Tsp of cream of tartar
1 Tsp Baking soda
1/4 Tsp of salt
2 Tbsp of sugar
2 Tsp cinnamon
Mix shortening, sugar, eggs together first. Blend flour,
cream of tartar,
salt & soda and add to shortening mixture. Stir together.
Shape dough in 1" balls and roll balls in mixture of sugar and cinnamon.
Place 2" apart on ungreased baking sheet.
Bake 8-10 minutes at 375.
Cookies will puff up at first, then flatten.

Click Here To Add A Recipe or Two